Team building 2.0
A day teambuilding is for many organizations a familiar recipe. But often have this kind of day is more like a school trip. "Spending time together 'is the aim in itself. But bringing the top of an organization together, is a huge investment in time and money. In all the years I have been in the consulting business, I have joined dozens of these team building days. I often marvel at how little thoughtful often is dealt with the time available. Teams are climbing in trees, participate in golf clinics or are going hiking through the mountains together. My experience is that there's almost always a few participants who participate in the whole program reluctantly. Has that particular someone already surfaced in your mind?...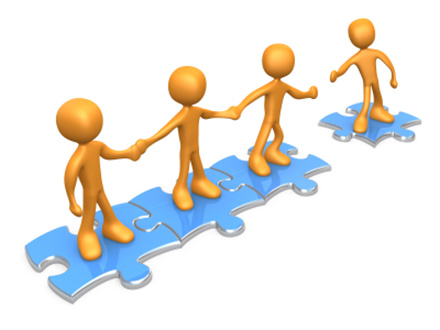 The approach that we have developed throughout the years, is aimed at working together as a team through a very intensive workshop. The team focuses during these workshops on the implementation of the strategic objectives of the organization. In our view, this is often a much better investment of the available time and resources. Because it's by focusing on the execution of the strategy that the organization can accelerate. The team works together across the silo's and around the priorities, they assign actions to the priorities, together they solve possible barriers and all of the actions are given an owner. Remember that it is often the lack of execution of the strategy is that gives the boss sleepless nights.

So if you want to coach your team to become a dream team, look at the following checklist:
Is there an appropriate level of trust in the team to start working in teams? If not, start first with investing in building mutual trust. Otherwise you are going too fast and the team work has little effect. You then build on quicksand.
Are the characters in the team complimentary to each other? Or do you primarily have a group of look-a-likes around you?
Do you have more or less your final team together? Or are you expecting big changes in the short term?
Is silo thinking an issue? Team oriented work helps you to fight silo's.
Is the strategy clear?
Is the strategy communicated and familiar to everyone?
Translation of the execution in this way helps you to appoint owners for the different actions.
By actually working together in this way, everyone gets to know each other better during the workshops. This increases the mutual trust. The result is team building 2.0

If you're interested to hear more about our experience and approach? Please let us know via This email address is being protected from spambots. You need JavaScript enabled to view it.. Or give one of our consultants a ring.
'Paul has worked with our Leadership team to understand and sharpen the processes and dynamics of a real global player both in terms of business and people leadership.
Real great experience to work with him, getting challenged and inspired at the same time and feeling mentally empowered after each session @pauldonkers'
Esther Staskiewicz
Electrolux Professional
October 2016



---
"Our business is quite profitable and we see our selves as a winning company. This is why, when we have asked Paul (Donkers) to help us in becoming even better, there was some surprise from some of our Sector Management Team members who said: is it really necessary to organize these team coaching sessions?
In fact it is now nearly two years that we are in this journey and we already see some positive differences within the team dynamics. Trust among the team has improved greatly and the self awareness to work on our soft side has been recognised by everyone.
tèn company gave us the opportunity to focus on our single areas of improvement, thanks to a 360° assessment which was previously done, and we worked on scenario thinking in order to become both more innovative and more structured in our strategic approach.
We know that the journey will not be always be easy, but to win competition we need to become a more effective Top Management Team."
Marie-Thérèse Chabaane, Global Human Resources Director Electrolux Professional
June 2015

---