Career transition


This program helps you not just to take the next step, but helps you to take the right next step in your career. And that's a huge difference. This transformational program is designed to accelerate your professional and personal growth. Our career transition program is an investment for your personal and your professional life; for the short ànd for the long term.
Whether you're looking for the same job in a comparable organisation. You want to continue your career in another industry. Or you want to start or buy your own business. Our career transition program provides you with the inspiration, tools and roadmap to work on your professional future.
This program is fully customized to your specific needs. Delivery is mostly via a series of one-on-one sessions with your executive coach. The length of the program is 12 months. 
Our program is unique.
You only work with a senior consultant. Your consultant is always an independent entrepreneur where you have unlimited access. We never count time. We only count impact.
Acces to our global network.
Acces to tèn's global colleagues.
Access to alumni and current coachees in our network.
Integration of our personal approach in a logical eight step program.
Integration of MRG's assessment suite into your program. The best assessment in the industry. Working with your drivers and your leadership behaviors.
Access to our unique, black box headhunter database. Here, we keep track of personal experiences of our coachees with headhunters in Europe. Always up-to-date with cloud access for you from any internet device.
We have more then 20 years of personal experience with senior career transitions.
We deliver our program for our clients worldwide. 
In our program, we use eight milestones to help you achieve your goal. This program helps you to navigate through your own process in a logical way.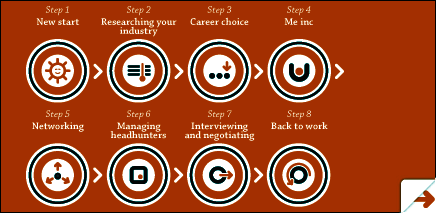 Click for the scheme 'Executive Career Transition'.
Please let us know if you want to know more about this program. We'd be happy to discuss any questions you might have.
"After having successfully executed the merger of the Dutch and Belgium Cooler Services organizations at Coca-Cola Enterprises, I decided to follow the executive coaching program for career transition at TenCompany. My goal was to continue my career in another industry. During this program Paul Donkers worked with me intensively. I found Paul to be a driven and first class professional providing me very usefull insights and a specific roadmap which helped me defining my next career step. Besides that his personal style is very empathic and he is a great guy to work with. I would highly recommend Paul to anyone looking for professional business coaching."
Roel de Bijl, General Manager Network Operations at Autobinck Group
---
"In my endeavor for a new job opportunity Paul was steady as a rock for me. He was a great navigator and keep me on track in exploring different directions. Paul is a real professional, provided structure, "peeled the onion" on what is really important for me but was also very instrumental in self-reflection which strengthen me as a business leader. With Paul's enthousiasm, ability to listening and sharp thinking he inspired me, provided self confidence in "selling" myself and energy to sail sharp and braving big waves to achieve my final goal. A great journey with a lot of positive learning's. Thanks."
Jelle Kroes Vice President Global Sales Forbo Flooring Systems
---
"My first acquaintance with tèn company was through various individual programs. tèn company's support was well appreciated because of its personal and tailor made approach. After the takeover of Draka by Prysmian the challenge was to restructure the former Draka Holding offices in Amsterdam in a smooth and constructive way. tèn company supported a group of 20 employees in the same professional and effective manner as before without compromising on the quality and time spend with the individual employees, helping them to formulate and market their own capabilities and ambitions. Within a year the majority of the participants have found a new challenge in a different company or as entrepreneur. The following through of tèn is thorough and they keep in touch also after the formal termination of the assignment."
Brent Kooreman, former Group HR Director Draka holding
currently Group HR Director Hertel