Executive career transition
Whether you're looking for the same job in a comparable organisation, to continue your career in another industry, or you want to start your own business, our program provides you with the roadmap to work on your professional future.
In our program, we combine structure with personal attention. The combination of the two differentiates our approach.
At tèn career transition we use eight milestones to help you achieve your goal as quickly as possible and maintain oversight on your project. On average, a career change takes about six months. But there are no average people. A short program sometimes only takes three months. While for a senior executive the right search can take up to 15 months. More important is the quality and the quantity of your work. We see career transition as a working project, that takes between 15 and 35 hours work per week. That's the way to find the best next step, as quickly as possible.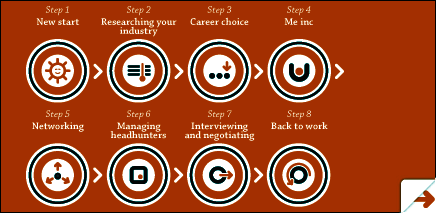 Click for the scheme 'Executive Career Transition'.
In our programs, we use the attitude of the different working generations towards work and life. For example, a program for a baby boomer, on average, will take longer and have more self exploration elements. While, for generation X and millennials the program will predominantly consist of tools and provide coaching with their career choice.
In my endeavor for a new job opportunity Paul was steady as a rock for me. He was a great navigator and keep me on track in exploring different directions. Paul is a real professional, provided structure, "peeled the onion" on what is really important for me but was also very instrumental in self-reflection which strengthen me as a business leader. With Paul's enthousiasm, ability to listening and sharp thinking he inspired me, provided self confidence in "selling" myself and energy to sail sharp and braving big waves to achieve my final goal. A great journey with a lot of positive learning's. Thanks.
Jelle Kroes Vice President Global Sales Forbo Flooring Systems
---
"My first acquaintance with tèn company was through various individual programs. tèn company's support was well appreciated because of its personal and tailor made approach. After the takeover of Draka by Prysmian the challenge was to restructure the former Draka Holding offices in Amsterdam in a smooth and constructive way. tèn company supported a group of 20 employees in the same professional and effective manner as before without compromising on the quality and time spend with the individual employees, helping them to formulate and market their own capabilities and ambitions. Within a year the majority of the participants have found a new challenge in a different company or as entrepreneur. The following through of tèn is thorough and they keep in touch also after the formal termination of the assignment."
Brent Kooreman, former Group HR Director Draka holding
currently Group HR Director Hertel
---
"tèn company (coach: Herman van Herterijck) has provided me with a structured approach, an excellent personal insight and a continuous support to make my career transition a fantastic development opportunity.
I have learned a lot, built self-confidence and been able to choose among several job offers. I would certainly recommend tèn company as a professional career transition partner. Thank you."
Cedric Renaud
Supply Chain Director - EMERSON
---
"Thanks Herman for navigating me through a difficult period in my personal life. Thanks for sharing your wealth of knowledge and experience and for challenging me to be more aware of my own skills and talents"
Referral from Chee Hong Lai
Marketing Manager Lyondellbasell
---
"After careful selection my expectations were high to work with tèn company and the person of Paul Donkers. In hindsight I can say that my expectations are met if not exceeded. I look back on a pleasant, personalized and above all professional process. It has kept me focused on the ball and never loosing sight of the goal. I've experienced Paul as a professional and committed executive coach who has learned me some essential things, which I'll use for the rest of my life."
Julian v.d. Vaart, HR Executive in Europe for BNY Mellon
---
'While unexpectedly arriving at a critical crossroad in my career, I was lucky enough to get to know tèn company. In working with Paul and Herman I had the chance to get to know two true professionals, who most fortunately were able to provide a very helpful perspective on my future. And while it took time to get me past a leftover roadblock from my previous employment, they were able to bring down this invisible hurdle of facing the "unknown" by breaking up the process of my career transition into almost logic-seeming steps. By adhering to the underlaying values and basic principles, I learned that indeed 'èvery step counts'. I found the regular meetings with my peers at tèn company to be particularly stimulating and helped much to stay on track. Finally, the thorough interview preparation together with Herman (combined with a welcome dose of fortune one cannot miss out on in life, I guess....) paved the way that allowed me to pass each of the individual stage gates in a surprisingly smooth manner and ultimately lead to my new employment.'
Leen van den Heuvel, Executive Chemicals EMEA, Ascend Performance Materials, Louvain-la-Neuve, Belgium
---
"Change is one of the hardest processes to follow through on. Having reached a crossroad in my development I wanted to have the support of a professional in going navigating this process. After researching and several conversations I teamed up with Paul Donkers and the team of tèn company. Paul's professionalism, character and enthusiasm helped me through making the tough choices and kept me focused on the goals I wanted to achieve. I highly recommend working with tèn company and Paul; specifically when going through changes in your career."
Wim Jansen Vice-President Sales @ Human Interference